The 2014 Rosalinde Gilbert Innovations in Alzheimer's Disease Caregiving Legacy Awards Reception
This ceremony marks the honoring of winners of this past year's Caregiving Legacy Awards. The winning programs and parent organizations are:
"Tales & Travels Memories Project," Gail Borden Public Library District (Elgin, IL), in the category of Creative Expression
"Success Through a Unified Vision: the Fight to Preserve Alzheimer's Care in California," California Association for Adult Day Services (Sacramento, CA), in the category of Policy & Advocacy
ACT on Alzheimer's, Metropolitan Area Agency on Aging (North St. Paul, MN), also in the category of Policy & Advocacy, and
Vietnamese Family Caregiver Support, Orange Caregiver Resource Center (Fullerton, CA), in the category of Diverse/Multicultural Communities
Appetizers and beverages will be served. Hosted by Family Caregiver Alliance and The Rosalinde and Arthur Gilbert Foundation.
RSVPs: Call (415) 434-3388 OR send an email to info@caregiver.org (please make the subject of your email "Gilbert Awards RSVP" and include the number of people for RSVP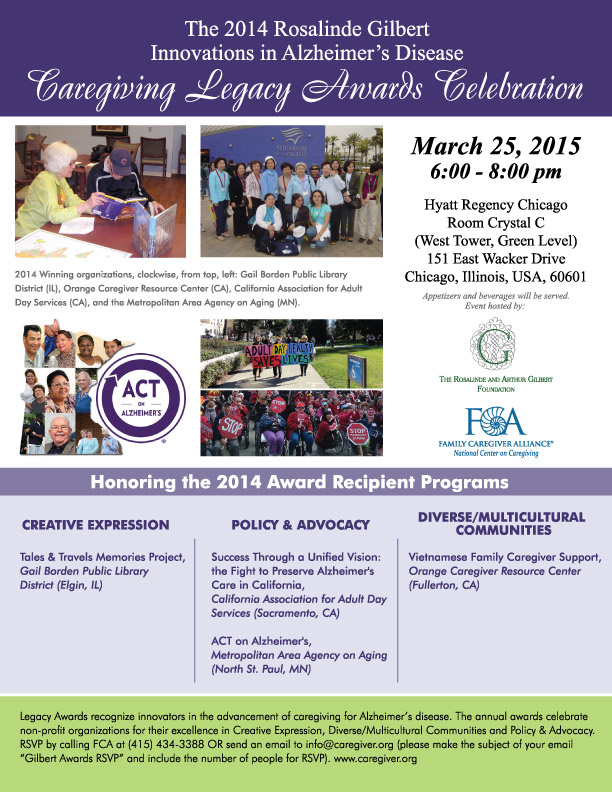 Mar 25, 2015 | 6:00 PM – 8:00 PM (Pacific)
Location: Hyatt Regency Chicago
Room Crystal C (West Tower, Green Level)
151 East Wacker Drive
Chicago, Illinois, USA, 60601