Aging in America: Annual Conference of the American Society on Aging
Family Caregiver Alliance (FCA) has the following events at AiA17:
---
RECEPTION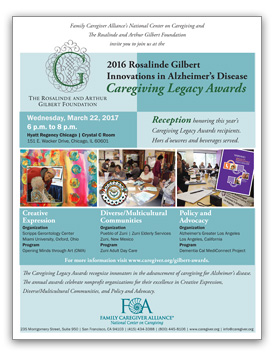 For Awardees of the 2016 Rosalinde Gilbert Innovations in
Alzheimer Disease Caregiving Legacy Awards
When: Wednesday, March 22, 6 p.m. to 8 p.m. (all are welcome)
Where: Hyatt Regency Chicago, Crystal C Room
We have a wonderful panel of awardees this year so please join us for this heartfelt celebration of community innovation for family caregivers.
◄ Download reception flyer (PDF)
---
SESSIONS
National Forum on Family Caregiving
When: Monday, March 20, 12:30 p.m. to 3:30 p.m.
Key authors from the Generations issue on Family Caregiving will discuss trends, programs, and policies in this session.
Care Compass: Online Services for Family Caregivers
When: Wednesday, March 22, 2 p.m. to 3 p.m.
Provides an overview and experience to date of our new program, now titled, FCA CareNav, that provides an online, mobile-ready application that enables family caregivers to tailor information and training to current needs and links them into an always-on service system of tested interventions, care consultation, and peer support. Limited data from multiple pilot sites with partner organization, LA Caregiver Resource Center, University of Southern California, will also be provided.