Burning the Candle at Both Ends: Managing Stress for Family Caregivers
Stress is a normal physical response to the many challenges family caregivers face on a daily basis. Unfortunately, chronic stress can also lead to problems with your emotional and physical health. There are however ways to manage stress, by practicing techniques designed to boost resilience. At this workshop, family caregivers will learn about:
The sources of stress.
How to manage stress.
Stress relievers and coping tools.
Stress reduction techniques.
Pre-registration is required. Please let us know if you have a disability and require specific accommodations. This class is specifically for family caregivers, not providers.
Registration: Contact Amanda Hartrey at (415) 434-3388 ext. 334. Feel free to leave a message with your name, number, and the name of this workshop.
Click here to download the flyer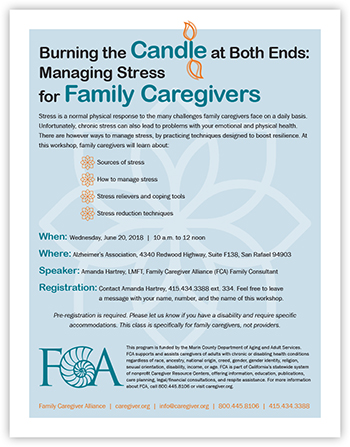 Jun 20, 2018 | 10:00 AM – 12:00 AM (Pacific)
Location: Alzheimer's Association
4340 Redwood Highway, Suite F138, San Rafael 94903