Caregiver Educational and Respite Retreat in Richmond
Take Time for YOU!
You are invited to join FCA for a free, one-day retreat designed especially for you, the family caregiver. Learn about caregiver self-care and stress management, and participate in therapeutic group activities like arts and crafts, yoga, dance, and tai chi. Network and share your experiences with fellow caregivers, and enjoy a catered brunch.
Pre-registration is required and group size is limited. Unfortunately, we are unable to accommodate professionals caregivers at this event.
Respite scholarships are available. For more information, please contact: Calvin Hu, (415) 434-3388 ext. 313, or chu@caregiver.org.
Click here to download and share the flyer.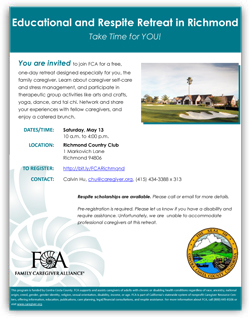 May 13, 2017 | 10:00 AM – 4:00 PM (Pacific)
Location: Richmond Country Club
1 Markovich Lane, Richmond, CA 94806
Registration URL
http://bit.ly/FCARichmond