Caring from Afar
Whether you live hundreds of miles away or are just across town in your office, chances are you worry about the safety of an ill or elderly relative or friend at home alone. It's always in the back of your mind: Why isn't mom answering the phone? What if dad fell or had a heart attack and no one knows? What if he turned the stove on and forgot? Will mom wander outside and lose her way?
Activity-tracking home sensor systems were designed to address these concerns by using sensors to monitor, a base station that analyzes the sensor data, and the ability to send alerts if unsafe or unusual behavior is detected. Home sensor systems claim they offer peace of mind and the ability to warn you about situations that are potentially dangerous. Are those claims true?
In this special new workshop, we'll go beyond the marketing materials and explore real (and notalways-so-real) benefits of these products and services. You'll get unbiased, expert advice to help you:
Sort through the confusion and choose a product that works best for YOUR situation
Determine the real cost of products and monitoring services
Learn how these tools might actually save you money
Find out if they're easy to install—or if you have to be a tech genius to use them
Create a framework for making decisions about these and other new safety products.
To download the flyer click on the image below: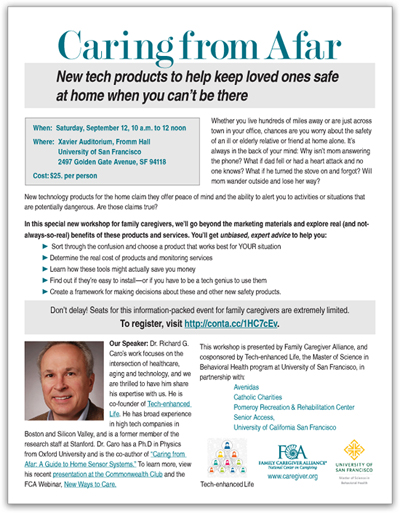 Sep 12, 2015 | 10:00 AM – 12:00 AM (Pacific)
Location: Xavier Auditorium, Fromm Hall
University of San Francisco
2497 Golden Gate Avenue, SF 94118
Registration URL
http://conta.cc/1HC7cEv