Dementia Proofing Your Home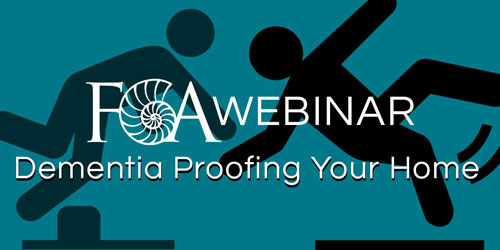 Dementia Proofing Your Home
Accidents in the home are one of the major reasons for the hospitalization of someone with a dementia. Hospitalizations are particularly fraught for an individual with dementia and their caregiver, as these may result in negative outcomes, including speeding up the disease itself.
This webinar will identify common dangers in the home for an individual with dementia, and explain ways that a home can be made safer so that accidents and medical emergencies can be prevented. Rooms in the house where the greatest danger is found are specifically addressed, in addition to strategies to combat wandering outside the home.
Objectives:
Identify the parts of a plan to increase safety in the home for people with a dementia.
Identify the rooms of the house with the greatest danger and name three ways in each room that the room can be made safer for the person with dementia.
Identify three actions that may be useful in preventing a person with dementia from wandering out of the house.
Speaker: Carole Larkin

Carole Larkin, MA, CMC, CAEd, DCP, EICS, is a gerontologist, and expert in Alzheimer's and dementia care. She is a certified Alzheimer's educator, a dementia care practitioner, an excellence in care specialist at the Alzheimer's Foundation of America, a certified geriatric care manager, and owner of ThirdAge Services LLC. Carol specializes in helping families with Alzheimer's and dementia issues..