Domestic employer workshop for seniors and people with disabilities
New Location (Homebridge)
If you hire a home care provider (or would like to), this workshop is for you!
We'll talk about how to create a positive working relationship, so that you and the provider get what you need. We'll teach participants about your rights and responsibilities as employers, including how you might be affected by the California Domestic Workers Bill of Rights and other laws. All are invited to share your own experiences!
[Si usted ha contratado (o quiere contratar) a alguien que le da cuidado en su casa, este taller es para usted! Vamos a hablar de como crear una relación de trabajo positiva, de manera que usted y su proveedor tengan lo que necesitan. Vamos a enseñar acerca de los derechos y responsabilidades como empleadores, incluyendo com ousted puede ser afectado con el acta de derechos de los trabajadores domésticos y otras leyes. Todos están invitados a compartir sus experiencias!]
For registration please call Jessica Lehman or Ligia Montano at: 415-546-1333.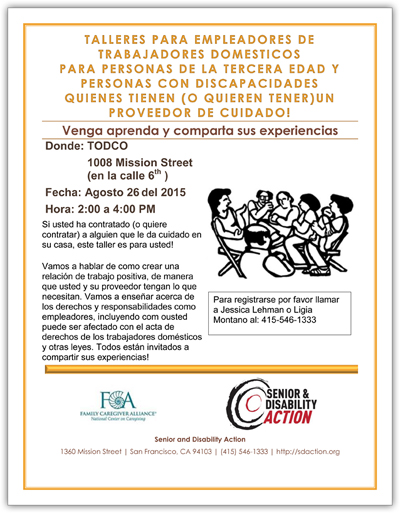 Click on the flyer to download 2-page PDF in Spanish and English.
This workshop is being presented by Senior and Disability Action in partnership with Family Caregiver Alliance.
---
Aug 26, 2015 | 2:00 PM – 4:00 PM (Pacific)
Location: Homebridge
1035 Market Street,
Suite L-1 (basement), classroom #3
San Francisco, CA