FCA In The Community: Alameda County National Family Caregivers Month Appreciation Fair
Join Family Caregiver Alliance at the Provider Appreciation fair for Alameda County's family caregivers to learn more about our free caregiver services and resources! FCA staff members will be hosting a resource table to answer questions and distribute informational flyers, brochures, and small goodies/giveaways for all event participants.
Event: Provider Appreciation Fair for National Family Caregivers Month
Location: Adult & Aging Services at Eastmont Mall
6955 Foothill Blvd, Suite 143, Oakland, CA 94605
Date and Time: Wednesday, November 8, 2023, 10:00AM-3:00PM
Registration Info: None. For more information, please call 510-577-5694
To learn more about our direct services and who is eligible, please visit our Bay Area Caregiver Resource Center webpage.
To learn more about this event, hosted by Alameda County Public Authority for In-Home Supportive Services (IHSS), feel free to visit their website here.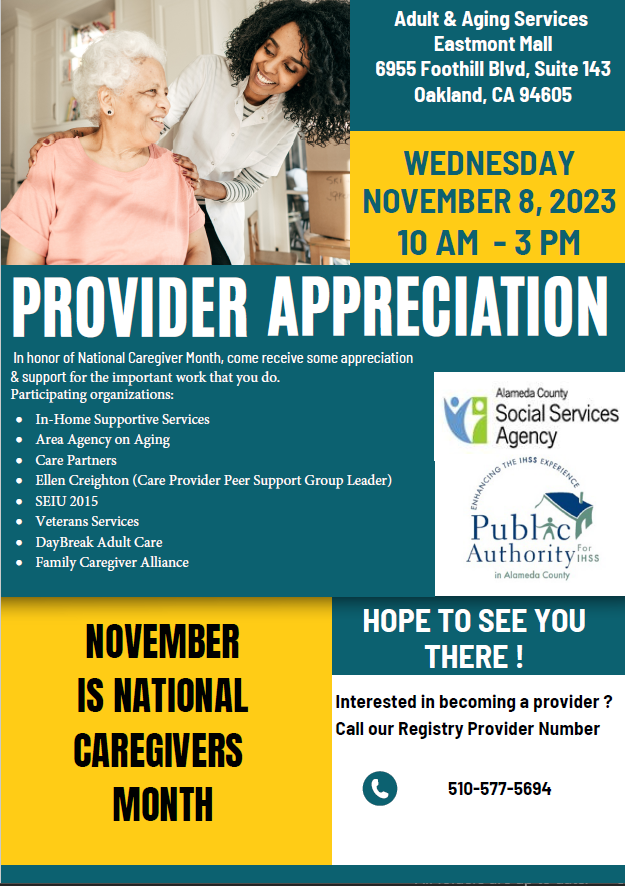 To view original PDF, click here.
Nov 8, 2023 | 10:00 AM – 3:00 PM (Pacific)
Location: 6955 Foothill Blvd, Suite 143, Oakland, CA 94605