Foro Latino
Una conferencia Gratis para familiares y amigos hispanohablantes que cuidan a un ser querido con demencia o una persona mayor con enfermedades crónicas. Aprenda de los expertos, participe en una actividad terapéutica del grupo, y disfrute de desayuno gratuito.
(The Latino Forum is a free conference for Spanish speaking family and friends caring for someone with dementia, or an aging loved one. Participants learn from experts, take part in a group therapeutic activity, and enjoy a complimentary breakfast. The Latino Forum is in Spanish.)
Este es un evento gratis. Por favor, llame para más información y para registrarse hoy mismo! Comuníquese con Crystal Madriles (415) 434-3388 ext. 317 (habla español).
Descargue y comparta el folleto.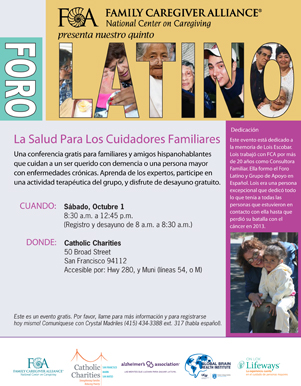 Oct 1, 2016 | 8:30 AM – 12:45 PM (Pacific)
Location: Catholic Charities
50 Broad Street
San Francisco 94112