Hoy por mi, Mañana por Ti — La Salud Para los Cuidadores Familiares
Una conferencia gratis para familiares y amigos que cuidan a un ser querido con demencia o una persona mayor con enfermedades crónicas. Aprenda de los expertos, participe en actividads terapéuticas en grupo, y disfrute un lonche gratuito. Como participantes ustedes tendran la oportunidad de educarce en los siguientes temas: Planificacion de cuidado avansado, tecnicas para superar resistencia de parte del el paciente. Y para terminar, los invitamos a una clase de yoga!

Este es un evento gratis. Por favor, llame para más información y para registrarse hoy mismo! Comuníquese con Adriana Sanchez, (415) 434-3388 ext. 316 (habla español).
"Hoy por mi, mañana por ti. — Today for me, tomorrow for you." is a free conference for Spanish speaking family and friends caring for someone with dementia, or an aging loved one. Participants will have the opportunity to learn about advance care planning, overcoming resistance, and will enjoy a light exercise activity. The Latino Forum is in Spanish.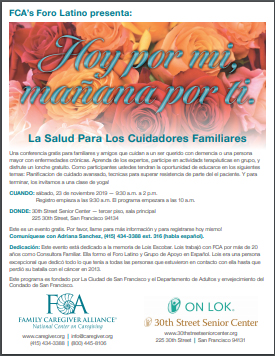 Nov 23, 2019 | 9:30 AM – 2:00 PM (Pacific)
Location: 30th Street Senior Center — tercer piso, sala principal
225 30th Street, San Francisco 94134