It Takes Two! A Refreshing Approach to Understanding and Coping With Dementia Behavior
This four week class offers new skills and tools for family caregivers who care for a loved one with Alzheimer's disease or related dementias.
In It Takes Two!, you will:
Learn more about your relative's ability to understand and communicate.
Learn new skills to handle troubling behavior.
Feel more confident and positive about your caregiving role.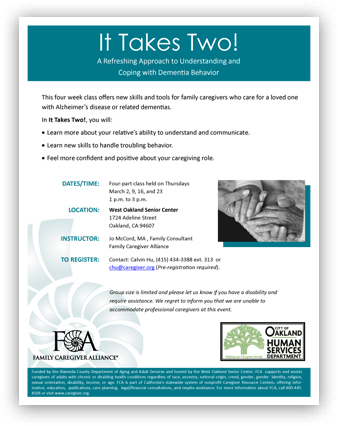 This four part class meets on four consecutive Thursdays starting March 2. You will need to be able to attend all four sessions (March 2, 9, 16, and 23).
To register: Contact Calvin Hu at (415) 434-3388 x 313; Feel free to leave a message with your name, number, and the name of this workshop.
Group size is limited and please let us know if you have a disability and require assistance. We regret to inform you that we are unable to accommodate professional caregivers at this event.
DOWNLOAD 8.5″x11″ PDF FLYER ►
Mar 2, 2017 | 1:00 PM – 3:00 PM (Pacific)
Location: