Powerful Tools for Caregivers
This free six-part class offers new skills and tools for family caregivers of those with a chronic health condition such as Alzheimer's disease, Parkinson's, or stroke.
At Powerful Tools, you will learn how to:
· Reduce stress.
· Make difficult caregiving decisions.
· Communicate more effectively during challenging situations.
· Prevent caregiver burnout.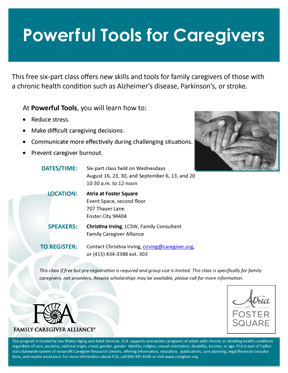 This six-part class meets on six consecutive Wednesdays starting August 16. You will need to be able to attend all six sessions (August 16, 23, 30, and September 6, 13, and 20)
To register: Contact Christina Irving, cirving@caregiver.org, or (415) 434-3388 ext. 303.
This class is free, but pre-registration is required and group size is limited.
This class is specifically for family caregivers, not providers.
Download the flyer ►
Aug 16, 2017 | 10:30 AM – 12:00 AM (Pacific)
Location: