Tech Tools for Caregivers
Tech Tools for Caregivers
This workshop will offer a practical overview of how technology tools may help family caregivers provide care for a frail or ill family member, partner, or friend at home. Technology products like smart phone apps, communication aids, in home sensors, and webcams can help make a home safer and reduce the caregiving workload. The class will include information on how to determine what your needs are, the costs of tech tools, privacy considerations, and ease of use.
Presenter: Christina Irving, LCSW, Family Consultant/Clinical Supervisor
Registration: Call (650) 378-2703 — class code is 53081
Click ▼ to download half-page PDF flyer.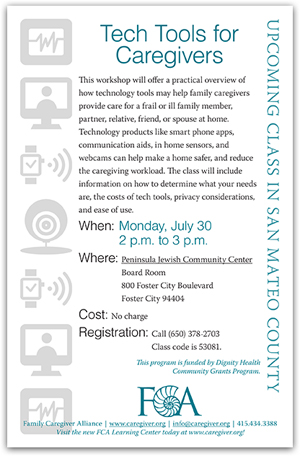 Jul 30, 2018 | 2:00 PM – 3:00 PM (Pacific)
Location:

800 Foster City Boulevard, Foster City 94404