There Must be a Better Way Than This!
Join FCA for a special one-day class offering new skills and tools for family caregivers who care for a loved one with Alzheimer's disease or a related dementia.
In this class you'll learn tips and strategies for understanding and communicating with someone living with dementia.
You'll also have the opportunity to learn
how to handle difficult behaviors.
how dementia impacts a person's ability to understand and communicate.
how to feel more confident in your caregiving role.
To register: Contact Amanda Hartrey, ahartrey@caregiver.org, (415) 434-3388 ext. 334
Pre-registration is required. This class is specifically for family caregivers, not providers.
Click here to download the flyer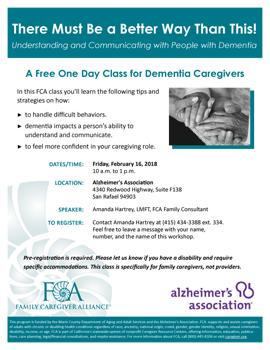 Feb 16, 2018 | 10:00 AM – 1:00 PM (Pacific)
Location:

4340 Redwood Highway, Suite F-138