Understanding Memory Loss and Dementia
Understanding Memory Loss and Dementia
Occasionally misplacing keys, forgetfulness, and failing to remember which word to use can be common experiences among older adults. While aging may include an increase in memory problems, dementia is not a normal part of the aging process. At this free workshop, participants will learn the differences between dementia and normal age-related memory loss, warning signs of dementia, how dementia affects thinking and mood, and the importance of obtaining a diagnosis.
Presenter: Christina Irving, LCSW, Family Consultant/Clinical Supervisor
Registration: Calvin Hu, chu@caregiver.org, (415) 434-3388 x 313
Please click here to download the flyer.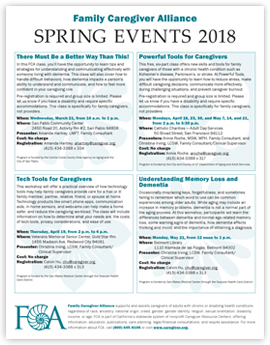 May 21, 2018 | 12:00 PM – 1:00 PM (Pacific)
Location: Belmont Library
1110 Alameda de las Pulgas, Belmont 94002