Young Caregiver Brunch and Tea – Honoring Modern Caregiving Needs
FCA is excited to host a special workshop for young family caregivers. We would like to bridge the gap, as well as celebrate, support, and honor your stories, despite the dearth of available information. This workshop will feature presenters speaking on topics specifically relevant to younger family caregivers, whose needs and concerns can differ from a caregiver who is older.
Refreshments will be provided.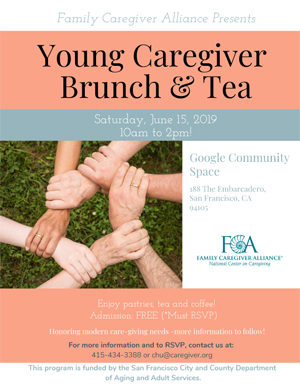 Jun 15, 2019 | 10:00 AM – 2:00 PM (Pacific)
Location: Google Community Space, Main Event Space
188 The Embarcadero, San Francisco 94105
Registration URL
http://bit.ly/FCAYoungCaregiver