Caregiver College: An Opportunity for Caregivers to Learn and Share

On Saturday, November 21, Family Caregiver Alliance in collaboration with Silverado Belmont Hills Memory Care Community, and with funding from Mills-Peninsula Health Services, presented Caregiver College. This regular Family Caregiver Alliance program offers a full day of free learning and sharing for family and friend caregivers.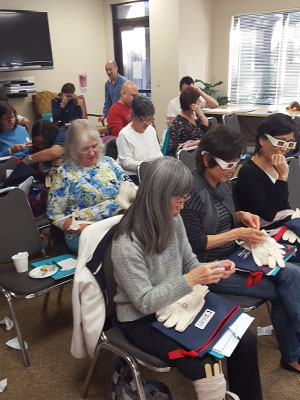 Presented by professionals in the health, caregiving, and nutrition fields, topics included Caregiver Self-Care; Dental Care; Transfer Skills; Incontinence/Toileting; Bathing/Grooming/Hygiene/Dressing; and Nutrition.
Of special interest was the presentation titled Trading Ages with gerontologist and advocate for seniors, Andria Reta, MSG, MHA. Reta had class participants simulate the experience of various age-related health conditions by wearing special glasses (macular degeneration and glaucoma); wrapping the knee with an ace bandage and popsicle sticks (arthritis); adding popcorn kernals inside shoes (foot pain); wearing work gloves (loss of dexterity and sensitivity), and wrapping an arm to one's side (stroke).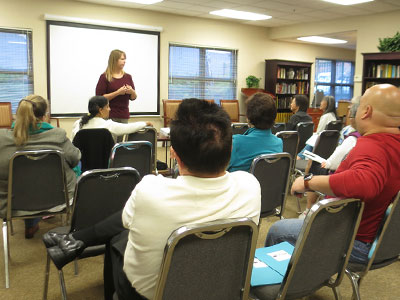 Family Caregiver Alliance would like to thank our sponsors and speakers Christina Irving, LCSW, Family Consultant, Family Caregiver Alliance; Andria Reta, MSG, MHA, Health Promotion Representative, Independence at Home; Rosa Mathai, DMD, Special Care Dentistry, Chief of House Call Services, Blende Dental Group; Michelle Bernardo, RDHAP, On Site Dental Hygiene, Blende Dental Group; Ladi Markham, RN, MA, CCM, Program Director and Geriatric Care Manager at Compassionate Community Care; Annette Velasco, Lead Personal Attendant, Silverado Belmont; and Caroline Haas (Fee), MA, Lecturer, San Jose State University.