I am a Caregiver for my ______.
Let's put a face on caregiving!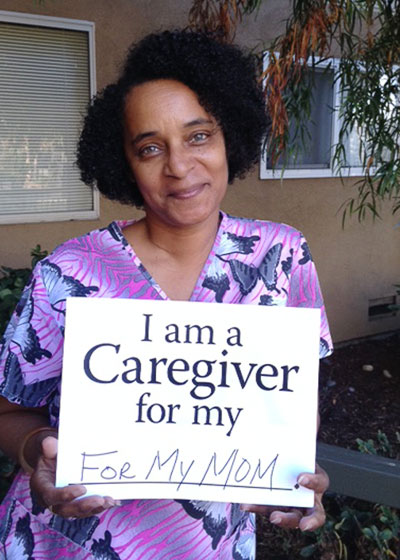 "I am a Caregiver for my ______."
SHARE your UnSelfie and help continue to raise awareness for the
40 million+ U.S. family caregivers who provide an estimated $470 billion of unpaid service annually.
Begun in the fall of 2015, the campaign continues!
Facebook: #IAmACaregiverForMy Twitter: #IAmACaregiverForMy
See this FCA blog post about the campaign (with PHOTOS) here.
---
Will you join the campaign?
Here are the four easy steps: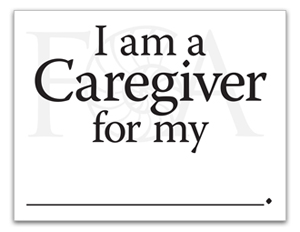 Download and print the 8.5″x11″ sign in English or Spanish (No longer available):
Be sure to fill in the blank space (use a large pen) identifying who it is you are a caregiver for: your spouse, your father, your best friend …

Take your photo using your phone or digital camera.

SHARE!
Email your picture to fca@caregiver.org and we will share your picture on our social media sites;
OR
Facebook: Post your picture to your page and then Share it with FCA @FamilyCaregiverAlliance;
Twitter: Post your picture to your page and add FCA's Twitter handle @CaregiverAlly.

Use the following hashtag with your post on social media: #IAmACaregiverForMy.
NOTE: Please feel free to make this campaign your own (Use your organization's logo or, if you don't have access to a printer, write a sign by hand.)
THANKS!
---
FCA's social media pages:
---