ARTZ @ Jeff: An Arts and Dementia Mentoring Initiative
ARTZ Philadelphia
Philadelphia, Pennsylvania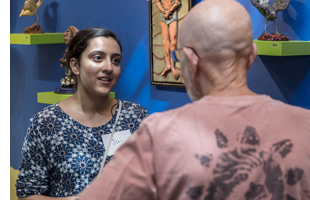 ARTZ @ Jeff is a collaboration initiated by ARTZ Philadelphia with Thomas Jefferson University's medical and health professions schools. ARTZ @ Jeff is a first-of-its kind program, interweaving individuals living with dementia, their family caregivers, and health professions students through arts-based interactions. Due to the symptoms associated with dementia—memory loss, difficulty communicating, and confusion—patients often become voiceless and marginalized by society, specifically in health care settings. ARTZ @ Jeff works to reverse the traditional provider-patient hierarchy and enlists people with dementia as the teachers and mentors to health professions students, teaching them empathy and the "real" story about living with dementia .
The program pairs students with mentors (those living with a dementia-related disease and/or caregivers) for six to eight weeks. Together they participate in conversations about art, using these initial encounters with each other to spur more intimate discussions about life and living with dementia. Most mentors return to mentor a second or third time, saying the work gives them a sense of purpose and offers a meaningful avenue to help improve the healthcare experience for others living with dementia. Many of the students reflect on the strong positive influence the mentor/mentee relationship offers them. Mentors' and students' responses to the program are documented in a series of YouTube videos. The arts advocacy program and medical school collaborators recently secured a significant grant from the Pew Center for Arts & Heritage. The newly funded project draws on ARTZ Philadelphia's high quality arts and dementia programming while also building on Jefferson's nationally recognized humanities curriculum and creating a new arts-based collaboration with another Philadelphia organization, Theater of Witness; but it stays true to its core emphasis on the power of the mentor/student interactions.
"The focus on the program's mentor-student relationship is completely unique in this context of arts-centered engagement, growing into an extended relationship between health professionals and people living with dementia over time," said Susan Shifrin, founding director of ARTZ @ Jeff. For students, the program serves as an "inoculation" against the future loss of empathy that sometimes occurs when they enter the clinical setting.