Announcing the "BPC Approved" Badge
May 21, 2021
The Best Practice Caregiving (BPC) team is proud to announce the "BPC Approved" badge. The badge is a visual recognition that a dementia caregiving program has been selected for inclusion in the Best Practice Caregiving database and is one of the top programs in the U.S. Dementia caregiving programs are initiatives or established programs that have been developed and implemented—by institutions, health care systems, dementia-focused organizations and others—to improve the lives of family and friend caregivers, as well as persons living with Alzheimer's disease and other dementias.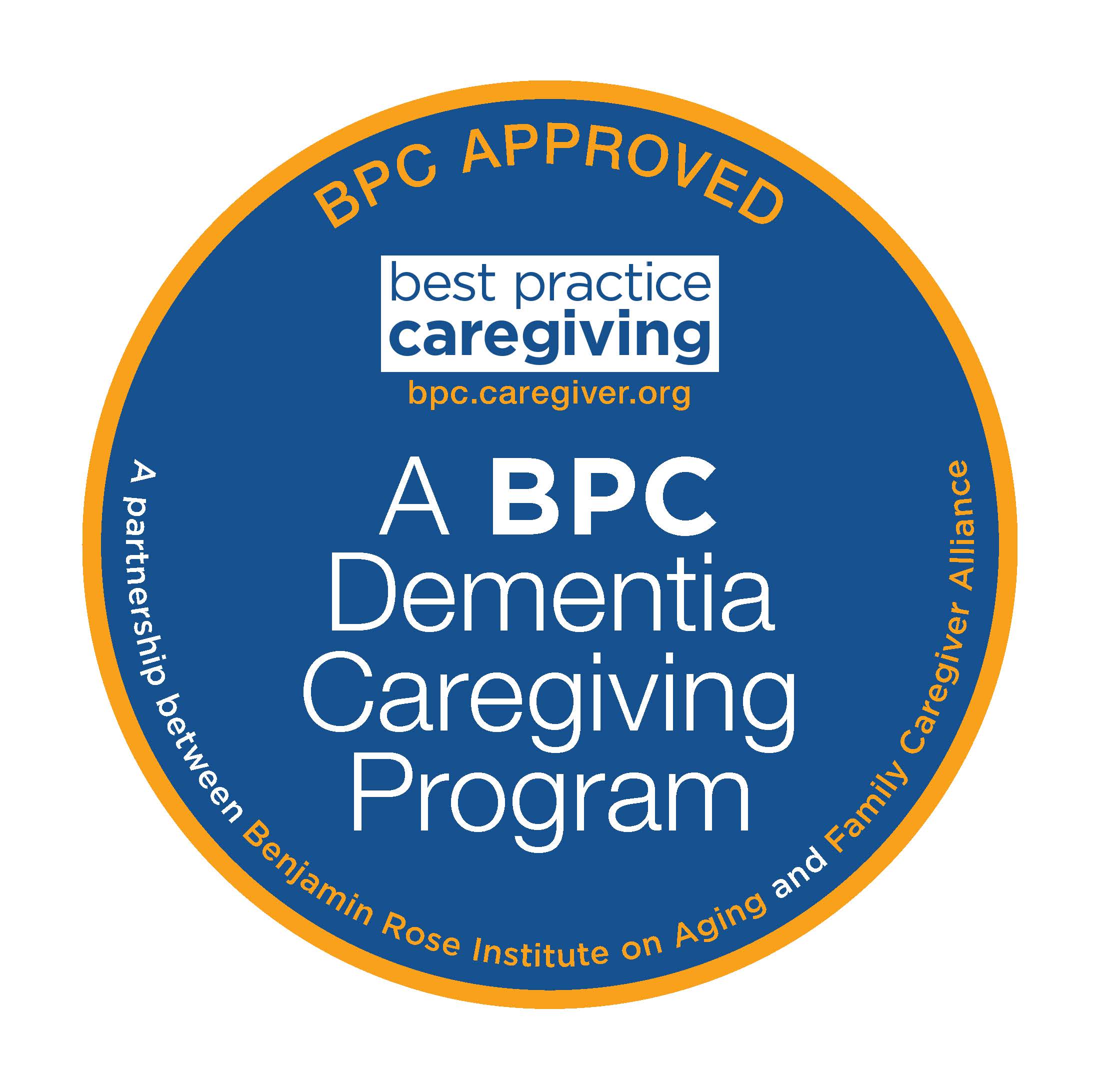 The badge indicates that the program has passed strict criteria for inclusion. To learn more about the criteria and methodology for inclusion, we talked with David M. Bass, PhD, Senior Vice President at Benjamin Rose Institute on Aging, Kathleen Kelly, Executive Director at Family Caregiver Alliance, and Katie Maslow, MSW, visiting scholar at The Gerontological Society of America—three experts on the BPC team. The following Q&A has been condensed for length and clarity, incorporating answers by Dr. Bass, Ms. Maslow and Ms. Kelly.
1. What does "BPC Approved" mean?
"BPC Approved" means that a dementia caregiving program has met the criteria to be included in Best Practice Caregiving. To be approved for inclusion, a program must be "proven and vetted"—proven to be beneficial to caregivers and carefully vetted by experts in the caregiving and aging fields.
2. What are the criteria?
The criteria we developed are tied to the ultimate goal of the Best Practice Caregiving project: to provide a resource that makes effective dementia caregiving programs more readily accessible and available.
So, our criteria fit into three buckets. First, the program must have published research with positive caregiver outcomes. Specifically, we look for research-based evidence of one or more statistically significant positive outcomes for caregivers of people with dementia.
The second criterion is that BPC programs must have evidence of feasibility. Many researchers, health care and social service professionals, and organization leaders have expressed strong concerns about programs that have research-based evidence of effectiveness but are very difficult to implement in "real world" settings. BPC programs have been or are being delivered in at least one organization offering it as a regular service.
Third, the program must allow permission or license for other organizations to adopt and implement it. This means that all the materials for delivering the programs – manuals, training, or communication tools – are available for others to use.
3. What's the methodology for assessing programs?
In developing this resource, the project team conducted a thorough assessment of dementia caregiving programs in the U.S. Out of more than 200 programs that we reviewed, 44 met the three criteria listed above. Besides ensuring that programs met these three required criteria, our methodology also included:
Gathering multiple sources of information to create comprehensive program profiles on Best Practice Caregiving,
Providing an emphasis on program implementation characteristics, with summary information on research studies and published articles.
We are constantly monitoring the field for new programs to add to BPC. (editor's note: If you've developed or know of a program that you'd like to submit for consideration, check out the methodology page on the BPC site.)
4. Can users of the Best Practice Caregiving database view the criteria for each program?
We wanted to make sure that users of the database—including lay people—could easily find, understand and interpret the criteria information we reviewed in the vetting process for each program. The information we used is found in the below four sources—all of which are available, along with other general info, in the program profiles on the BPC site.
Program developer and their contact information
Manuals and/or other training materials
Survey information from sites that deliver the program
Published research articles
5. Who vets the programs?
Vetting is done by experts (disclaimer: we are among them) with decades of experience in the aging, caregiving and dementia fields. We and our fellow BPC project leads are part of the collaborative team of organizations that developed Best Practice Caregiving: Benjamin Rose Institute on Aging, Center for Research & Education; Family Caregiver Alliance: National Center on Caregiving; and The Gerontological Society of America. The project's funders—also dedicated to improving the lives of caregivers and their care recipients—are The John A. Hartford Foundation, RRF Foundation for Aging and Archstone Foundation.
6. Why was BPC created?
Approximately 16 million Americans care for loved ones with Alzheimer's disease or other dementias, and this number is growing each year. At the same time, healthcare and community service organizations that support these caregivers have long faced a pervasive challenge of finding effective, high-quality caregiving programs.
We developed Best Practice Caregiving to try to bridge that gap. We created this free, easy-to-use and comprehensive online resource for organizations to identify, learn about and compare more than 40 top dementia caregiving programs across the U.S. Best Practice Caregiving is truly first-of-its kind, providing these organizations—as well as providers, funders and policy makers—with a 360 view of all the key considerations in making decisions about implementing proven interventions. Our hope is that BPC will enable more organizations to adopt proven programs and, in turn, be able to support and serve more of America's 16+ million dementia caregivers.
Best Practice Caregiving is a free online database of vetted, proven dementia caregiving programs. This searchable, interactive, data-rich resource provides detailed information on more than 40 evidence-based dementia caregiving programs across the U.S., enabling organizations to find best-fit programs for their clients and community.