Caregiving Up Close: Dette
February 26, 2018
The second in a series of three caregiver portraits
in honor of FCA's 40th Anniversary
---
"I have been a care provider for over 24 years and when I look back at all I have accomplished when it came to giving hope to those who were sick/critically ill, those who'd felt helpless, my soul is full with gratitude!"
Dette cares for people both professionally and personally. It is, she says, "what I have been called to do." We recently posed some questions to her about her caregiving journey—the challenges and the triumphs—and we share her inspiring responses, below.
Tell us a little about your background and your current caregiving situation.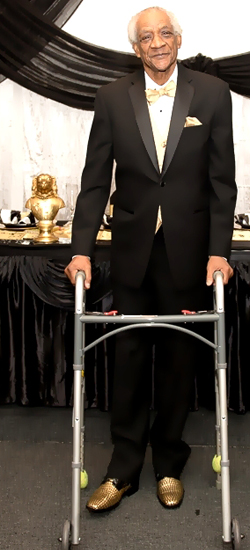 I am actively and heavily involved in the quality care of my 77-year-old father. Last year, my father had to undergo three major surgeries, back-to-back, for amputation of his right leg. My father, who has been a diabetic for over 20 years, was one of those stubborn individuals who decided he did not want to take the medications that his PCP (Primary Care Physician) prescribed. He worried about the side effects with some of the meds. Yet, every time I took him back and forth to his PCP, his sugar levels were at death levels! Not only does he have issues being diabetic, but he has a heart condition, he had issues with his kidney count going up and down, and more.
The case managers also stated that he may be showing signs of mild dementia. Being that we are Christians, my father and I started to "rebuke" this claim in the name of Jesus! Sure, we know that dementia is on the rise amongst the elderly, but this was one disease that I could not really think about with all of his other health issues.
Despite all that my father has had to endure, there was really no one "solid" in my family who would step up besides me. I have been a single mother since the age of 16. I can recall having to grow up at last and tackle this unknown world all on my own with my daughter back then. I had been a hoop star in high school, and this—my having a child—broke my father's heart. This led to a distant relationship between him and me until I got older.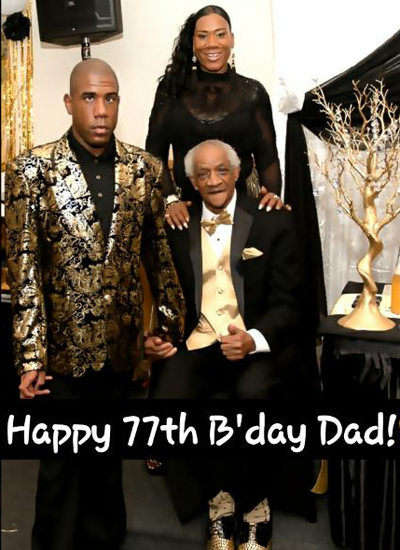 Then four years after my daughter's birth, I just knew that I found my future husband … but I was wrong. I got pregnant and found myself once again a single mother. This time, though, I had a huge shock, as my son Elijah was born prematurely. He only weighed one pound, 10 ounces. I was working, going to school, dealing with his father, and stressed out.
I can say now that my son Elijah has very much overcome. He is strong, healthy, and wise beyond his days. He is 24, but he is developmentally delayed, nonvocal or says a few words, and he has been my biggest responsibility ever since he was born. My daughter is now 28 and on her own.
So, with all that has been going on with my father and his health issues over the last 20 years, I found myself the only one in my family who would "always" be his backbone and care provider. Some said, "I can't do it if I can't get paid!" (Yes, even family … sad, but true!) Not to mention, for the last 10 years I worked positions in the healthcare field where I was a contractor. There were times where these organizations had budget cuts, and contractors like me would be the first to get laid off. Then, I would use this time off and jump back into aiding my father when others just wouldn't help.
But I have strong faith in what it means to serve God, and I feel like this is what God has called me to do. I went to work, cared for and nurtured my special blessed son Elijah, took care of my father and others who called on me to provide resources or care for them. At one point, I took on caring for my sick father, my close friend who had leukemia and passed away five years ago, and my son Elijah. Yes, I was able to care for them all.
Let me say this: My labor was visible to so many people who can vouch for the level of compassion, care, and support that I offer to those who were dear to my heart and who needed me. I have been a care provider for over 24 years, and when I look back at all I have accomplished when it came to giving hope to those who were sick/critically ill, those who'd felt helpless, my soul is full with gratitude!
I'm so thankful that God chose me to be right there to let them know that there is light at the end of the tunnel if you just hold on. Fight the good fight! Despite what it may look like, there is HOPE in hopeless situations. Just put faith over fear and rest assured that joy will come tomorrow.
I don't regret anything that I've had to do when it came to assisting in my father's care in these last two years, after his amputation. I'm here to tell you that God is keeping him! When you see my father, you are looking at a miracle! I recall when he was wheelchair-bound last year, but get this: he just received his second, newer prosthetic leg and he has been up and walking on a walker for over a year and half. What an awesome blessing!
"Jo became my ear of compassion when I needed to vent about all that I had to deal with when it came to father. She was very professional, patient, and had awesome knowledge of what I was dealing with. She was just warm and not once did she judge."
Tell us about the stresses and/or rewards of your caregiving situation.
I have to say there was a strain on my finances when it came to paying for my father's prescriptions, buying food for him, and paying others to give him rides to his appointments when I could not take him. But, Medicare helped. I was able to get one of the case managers to help with lowering his prescription cost. The other strain was lifting his wheelchair in my car every time he had appointments and the chairs are not light! He had appointments three to four times a week when he came out of the hospital.
When I think about the rewards, there is one that is priceless. I call that reward Love! That true love in your heart in knowing that your good deeds will never be forgotten by one whom you showed love, care, respect, patience, compassion, strength, and laughter. I don't care if they don't say it much or show it, but in their hearts, trust and believe that they are thankful that you were there.
How did you discover Family Caregiver Alliance?
I was given a resource sheet from one of the case managers who came out to see my dad, and who mentioned that I should reach out to Family Caregiver Alliance. At first, I just assumed this organization was not going to help me. But get this, I was incorrect and was contacted by one of their representatives in that same week, and that rep was named Jo. 🙂
Jo became my ear of compassion when I needed to vent about all that I had to deal with when it came to father. She was very professional, patient, and had awesome knowledge of what I was dealing with. She was just warm and not once did she judge.
I really felt so much better when I spoke to her about my father's heath conditions. Then, she stated she would check in on me later to see how things are going after she was able to provide me with a financial blessing, and … she did follow-up! This told me that Jo and Family Caregiver Alliance care about the service and care providers they help.
What caregiving services or resources have been most useful or helpful to you?
I was able to get some financial help*, and Jo explained resources she thought I should look into as my father gets older, such as understanding the signs of dementia. She let me know the sooner I get on it, the better.
If you could give other caregivers advice, what would it be?
Here's what I would tell other care providers: Whether you are a friend, family, neighbor, or co-worker, being a caregiver means that you're willing to help out of the kindness of your heart! To be a superb caregiver, you have to have patience, compassion, time, and experience in what it means to care for those who are battling a critical illness or setback in their health. You can't be one who is frustrated or who comes around them with hopeless eyes and hopeless talk!
Trust and believe that those who are sick can tell if you are there to help them get better.
You can't have a negative vibe around those who already feel like they are not going to get well. You have to bring positive vibes and a real smile of love when you are in their circle. Don't say they're "sick" with this or that. Switch it up and tell them that they are "battling" this and they will overcome! Teach them to speak LIFE. I don't care what the doctors may say. …
While we thank the doctors and nurses for their knowledge, I believe in the power of prayer, no matter your denomination or beliefs. It's never over until God says it's over! So, in all situations, you continue to show them LIFE! Dress them up, put on their favorite music, dance with them even if they can't walk, give them hope that someday they will get up! If they can't go outside, bring outside to them. You can't know hope if you don't have a heart!
Lastly, if you're going to do something out of your heart, don't do it with the expectation of getting something in return. God sees your works and when all is said and done, your blessings will show up—blessings that you won't even have room to receive.
And I just want to add: Thank you Family Caregiver Alliance for being there when I needed your services. I'm so looking forward to other future endeavors and services that your organization has to offer.
---
* Residents of the San Francisco Bay Area may be eligible to participate in special caregiver programs, including legal consultation, support services, educational programs, and limited respite assistance. Please visit and join FCA CareNav or call (415) 434-3388 for more information.