Honoring 2013 Gilbert Winners and Seeking 2014 Applicants
The Gilbert Winners Digital Scrapbook: Honoring the 2013 Awardees
Congratulations to the 2013 The Rosalinde Gilbert Innovations in Alzheimer's Disease Caregiving Legacy Awards winners! The digital scrapbook has been updated to include the most recent 2013 award recipients. You can view the scrapbook on FCA's website to learn more about The Rosalinde Gilbert Innovations in Alzheimer's Disease Caregiving Legacy Awards and the previous winning programs.
The three categories of the Gilbert awards are: Policy and Advocacy, Creative Expression, and Diverse/Multicultural Communities; however, this past year, there were two winners for Creative Expression in the absence of a Policy & Advocacy winner. They were as follows:
Creative Expression category: WeOwnTV (San Francisco, CA), for The Genius of Marian
Diverse/Multicultural Communities category: Alzheimer's Community Care (West Palm Beach, FL), for Community-based Alzheimer's Specific Services for Everglades Agricultural Area
Creative Expression category: New Mexico Literary Arts (Santa Fe, NM), for Alzheimer's Poetry Project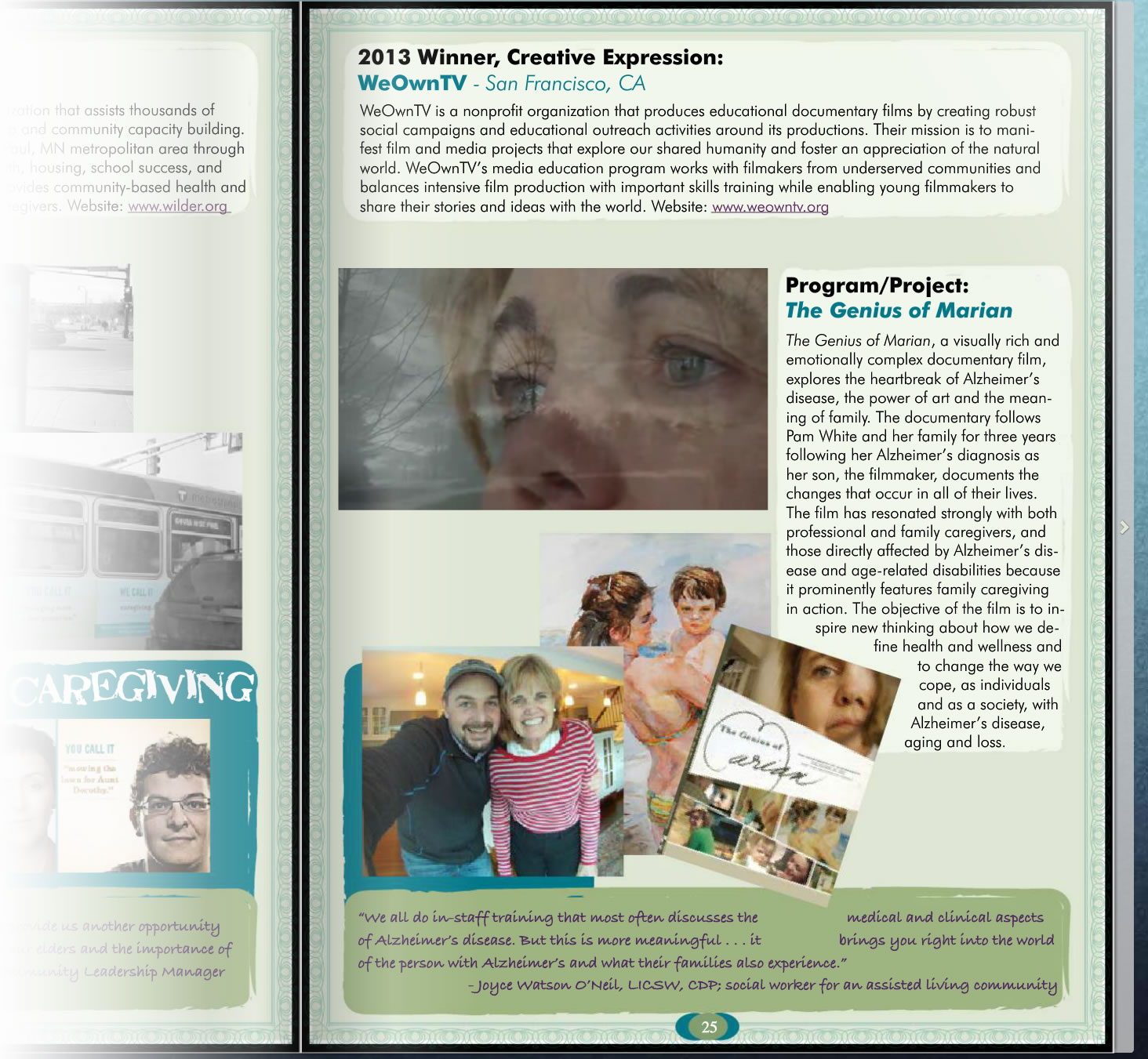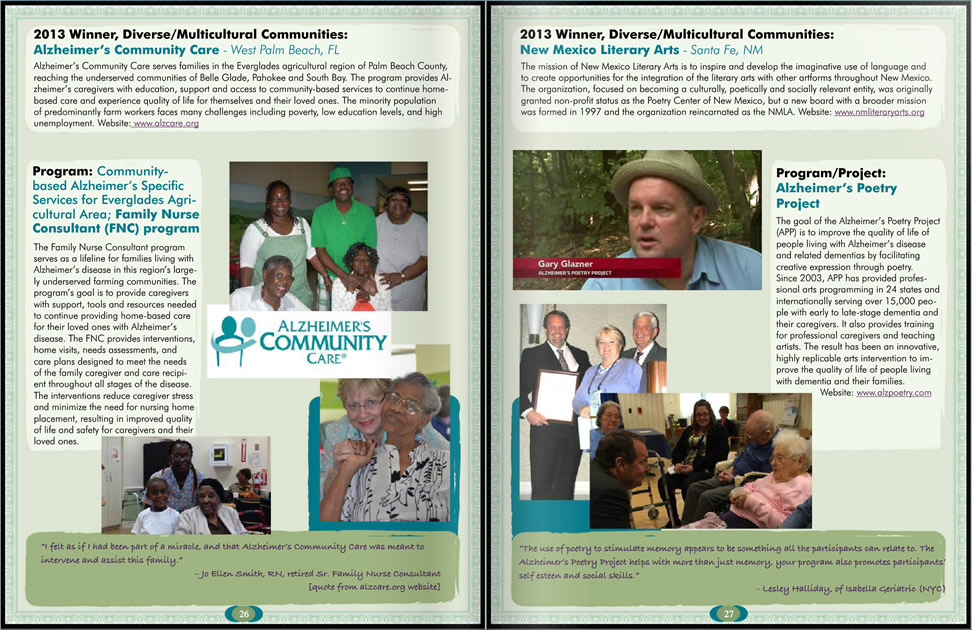 Inviting 2014 Applicants for the 7th Annual Gilbert Awards
Family Caregiver Alliance is excited to help The Rosalinde and Arthur Gilbert Foundation coordinate the seventh annual Rosalinde Gilbert Innovations in Alzheimer's disease Caregiving Legacy Awards. We have already started receiving applications for this year's awards (2014), which will recognize three new recipients with an award of $20,000 each. Nonprofit organizations, government agencies or universities are all encouraged to apply on behalf of a qualifying program or project. The purpose of the awards is to focus on programs or projects that serve Alzheimer's disease family caregivers and related dementias.
Know a program that might qualify? Share this web page with them. The 2014 applications are online only at: https://caregiver.org/gilbert-awards-application. More information can be found at: https://www.caregiver.org/alz-caregiving-awards.The deadline to apply is Friday, August 22, 2014 at 5 p.m. (Pacific Time).
Natasha Stewart
Coordinator, Rosalinde Gilbert Caregiving Legacy Awards Program