A Legacy of Survival: Part 3 of 3
November 15, 2017
Legal and funding breakthroughs
There's an old saying that goes, "As California goes, so goes the rest of the nation." Known for its innovation in policy, the Golden State was a pioneer in the field of healthy aging.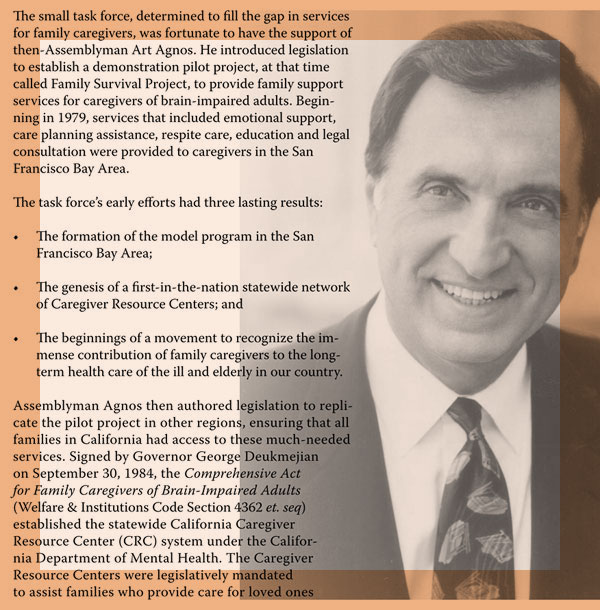 In February, 1978, on the same day that Alexander Bashkiroff died in a long-term care facility two hours from his home, FCA received its first funding from the State of California. As the Family Survival Project, it undertook the first-ever community needs assessment of the brain-damaged adult population and their families in the U.S., designed a model program, provided information and support to caregivers, and published a legal and financial handbook for families.
At the Project's request the next year, Assembly Member Art Agnos introduced legislation to pilot test the FCA service model. Most importantly, the law made California the first state to acknowledge the special needs of brain-impaired adults and, for the first time anywhere in state or federal statute, it recognized the needs of family caregivers.
'We need services for casualties of life as well as of war.'
FCA acknowledges that many contributed to its early success, but the agency would not exist without three tenacious women: Anne Bashkiroff with her persistence, passion and fearlessness, Sue Harris with her patience, love of detail and analytical abilities, and Jane Ophuls with a huge heart, large contact list and deep activist resources.
Summing up her efforts to find the help she needed, Anne said: "We need services for casualties of life as well as of war." She did not yet realize that she was speaking for millions.
— Diana Petty, FCA Executive Director 1978–1989