New Approaches to Dementia Caregiving Bring Results
May 14, 2020
This article describes one of more than 40 dementia caregiving programs found in Best Practice Caregiving (bpc.caregiver.org), a free online database that helps organizations identify, compare and adopt best-fit programs for their clientele and community.
Ellen would never have guessed that a cat named Sasha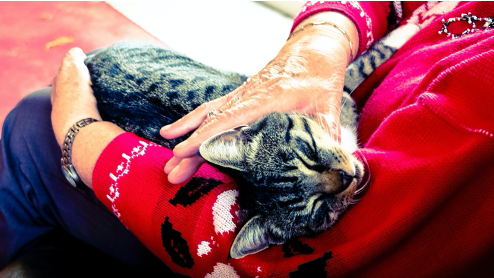 would be the key to helping her mother thrive while living with dementia.
"The cat instinctively, and I'm not kidding you, knows my mother and her needs," she said, noting how Sasha provides extra comfort and attention to Pauline at just the right times.
This unusual feline remedy was the suggestion of David Reuben, MD, who had been searching for alternative therapies after Pauline experienced unwanted side effects from a common drug intervention. Indeed, after Sasha joined the family, Pauline no longer needed those medications.
Dr. Reuben is Chief, Division of Geriatrics at the David Geffen School of Medicine at UCLA and Director of the
UCLA Alzheimer's and Dementia Care (UCLA ADC) Program
. He and his team, including Leslie Evertson, DNP, RN, GNP-BC, Lead Dementia Care Specialist, created the program to provide more individualized support for the dementia patients and their family caregivers receiving care from the UCLA health system. In the program, nurse practitioner Dementia Care Specialists co-manage dementia with primary care and specialist physicians.
Ellen and Pauline were the program's first participant duo, nearly 8 years ago. Since then, the program has successfully served more than 2,800 patients and counting.
The program is being further researched, adopted and launched at other delivery sites, and is available for
replication
by other health care systems that serve those living with dementia and their caregivers.
UCLA ADC
is one of more than 40 vetted, proven dementia caregiving programs featured in Best Practice Caregiving (
bpc.caregiver.org
), a free, online database that provides organizations with an easy-to-use, comprehensive tool to learn about top dementia caregiving programs across the U.S.
Health and service providers can use Best Practice Caregiving to compare a range of evidence-based programs, determine the best fit for clients and patients, review implementation history, and learn what training is needed to offer the programs in any community.
Launched in January of 2020, the database is a product of the collaboration among three leading organizations in the field of aging and caregiving: Benjamin Rose Institute on Aging, Center for Research & Education; Family Caregiver Alliance: National Center on Caregiving; and The Gerontological Society of America. Project funders are The John A. Hartford Foundation, Archstone Foundation and RRF Foundation for Aging.
Asked about the value of the UCLA ADC Program, Ellen said, "I wouldn't be able to keep my mom at home, honestly, without having [the UCLA team] to call upon … Health issues are still scary at times to me and it is comforting to know that I am not alone in making decisions for Mom."