Q & A: TCARE Caregiving Program
TCARE is an award-winning, evidence-based caregiver risk management platform designed to prevent caregiver burnout. With over 15 years of caregiver insights, advanced data analytics, and high-touch human support, TCARE identifies, mitigates, and continuously monitors caregiver burnout risk. TCARE partners with managed care organizations (MCOs), long-term care (LTC) insurance providers, employers, and other group entities to deliver clinically proven caregiver support. For public sector customers, TCARE licenses its patented platform to caregiver programs in State government Units on Aging, Native American tribes, and social service agencies.
TCARE is used by 250+ organizations and 1,500+ care professionals, serving over 500,000 family caregivers nationwide. Studies show that completion of the program is associated with high levels of caregiver engagement and lower levels of stress and depression. TCARE can be easily and quickly implemented and is available in 10 languages.
We spoke with Ali Ahmadi, CEO and chairman at TCARE, and Linda Miller, TCARE's Vice President of Government Programs, to learn more about how the program works, how it helps caregivers, and how other organizations can adopt it.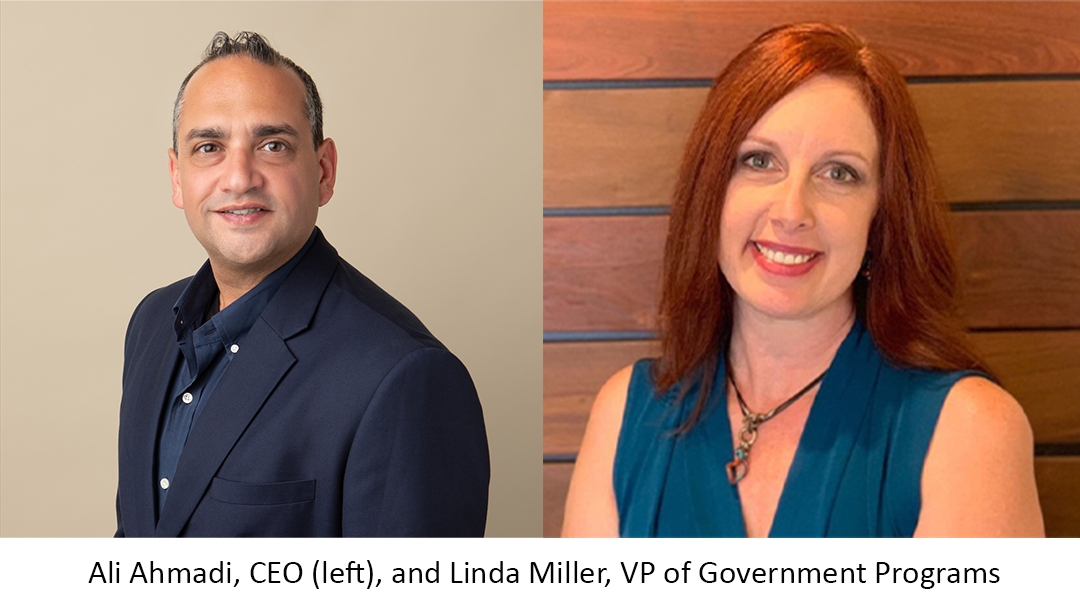 The following Q&A has been condensed for length and clarity, incorporating answers by both Mr. Ahmadi and Ms. Miller.
What is TCARE?
TCARE is short for Tailored Caregiver Assessment and Referral. It's a technology-enabled caregiver program that identifies the root cause of family caregivers' burnout, creates a care plan and then connects the family members with resources that are no cost or extremely low cost in their local community. This process is uniquely enabled by algorithms and AI, and it is delivered by organizations that serve caregivers in the community, in healthcare and in other settings.
What's the evidence base behind TCARE?
TCARE was built on 30 years of research focused on the causes of and pathways leading to caregiver burnout. Researchers at the University of Wisconsin were awarded an NIH grant for a study that included seven years of two sets of clinical randomized trials in a cohort of 33,000 family caregivers across four states. These rich data, information and learnings created the science behind what TCARE is today. Takeaways from the research showed there are seven key areas that drive a caregiver towards burnout and each is measured within TCARE.
How does the program work?
The TCARE program is a transformative journey of assessment, intervention, and unwavering support for caregivers. It begins with a dynamic screening tool and a personalized evaluation conducted by a certified professional. This assessment delves into critical areas such as identity, stress, depression, and the delicate balance between caregiving and life objectives, capturing the impact on the caregiver's relationship. The evaluation also highlights the positive, uplifting aspects of their journey.
Powered by 30 years of research and machine learning, decision algorithms then shape targeted goals and strategies. Caregivers receive a customized care plan, local resource guidance, and ongoing one-on-one weekly engagement to monitor stress levels. This proactive approach is vital, ensuring caregivers steer clear of burnout and receive immediate support should their situation evolve. The TCARE experience is not just a program; it's a source of encouragement and empowerment for caregivers on their uplifting journey.
What are the technical components?
TCARE effectively combines an integrated system and set of tools—including an evidence-based assessment program, an engagement platform, resource database, triage, clinician tools and more. The TCARE team is continuously updating the resources in the database that it has now built across 55,000 zip codes nationwide, both continental and inter-continental US.
What else is unique about TCARE?
TCARE is grounded on the Identity Discrepancy, which is a key driver to burnout. Identity Discrepancy is how a caregiver views their familial role in balance with the expectations of caregiving responsibilities. This proprietary and patented component of TCARE sets it apart from other tools. In addition, as far as we know, there are no other evidence-based programs that use decades of complex historical data, including models of age, race, sex, national origin and cultural backgrounds, to pinpoint in a very user-friendly way the root cause of caregiver burnout. Sometimes the answer is surprising.
I (Ali) will share a personal story: In 2016, my wife and I became caregivers to my mother-in-law after she was diagnosed with stage four lymphoma. Over time, the stress of caregiving increasingly affected us. We went through the TCARE protocol, and the algorithms identified that what we needed was marriage counseling. I had thought the recommendation might be hospice care for my mother-in-law or another clinical type of solution. But it turns out our primary factor of burnout was the toll that caregiving was taking on our marriage. The algorithm identified marriage counseling as a root cause of burnout and as a resource in our care plan. It also identified a local church located just three blocks away from our house that offers free weekly family counseling sessions.
Other unique aspects of TCARE are that it is the only evidence-based, CMS-approved family caregiver support program in the country that is approved by the Administration of Community Living. Additionally, its components are adapted to fit the situations for dementia caregivers, caregivers of those with intellectual or developmental disabilities, kinship/foster parents and those caring for our veterans. Finally, TCARE is available in English, Spanish, Mandarin, Cantonese, Vietnamese, Japanese, Korean, French, Farsi and Portuguese.
What organizations use TCARE?
TCARE is an enterprise-facing program, not consumer-facing. There are three segments of customers: state units on aging and AAAs; health plans and systems (mostly Medicare and Medicaid but also some commercial systems); and long-term care insurance, life insurance providers and employee assistance programs. Using TCARE does not require advanced clinical training, so users include nurses, social workers, care managers and coordinators, family caregiver specialists, case and outreach workers, and other field personnel who work with caregivers. Because of the evidence-base behind TCARE, many organizations, utilize it for gaining a better, deeper perspective of who they're already serving—and a way to expand those services and to identify those in greatest need.
What does the caregiver get from the TCARE program?
Caregivers come away with a better understanding of how the caregiving journey affects their own health. They also receive a care plan that has personalized goals, strategies and resources in their local zip code that help guide them toward self-care and support with their caregiver responsibilities. Their 1:1 support is provided by the certified specialist who is available throughout their time in the program. This specialist also leads a conversation on how the caregiver can manage their stress and health, provide better care, and effectively address their burnout. Armed with knowledge and actionable steps, the caregiver can become self-directed. TCARE recommends that the specialist re-assess the caregiver's situation at least every three months to see if there is a change. After the care plan is created, there are automated engagement tools, with support delivered in a way that's customized to the caregiver's comfort level. For instance, the caregiver might receive ongoing support via text messages, mail, telephone, etc. The care plan is also dynamic in nature, as the engagement tools continually learn and adapt to the caregiver's behavioral patterns and preferences.
What caregiver populations does TCARE serve?
There are four versions of TCARE, serving a diversity of populations. Of course, there's the TCARE evidence-based version that's for family caregivers of older adults and dementia patients. We also have a version for family caregivers of the developmentally disabled population and another for foster care families. Finally, after a two-year partnership with US Army and the Wounded Warrior project, we created TCARE for family caregivers of military veterans.
Tell us about TCARE's success.
TCARE's success and efficacy can be seen in these outcomes:
The average of delayed nursing home placement is 21 months.

There's been a 20% reduction in LTC or LTSS claims.

In five disease-related groups, we've shown reduction in 30-day re-admission and length of hospitals stays.

Since 2009, the TCARE protocol has been legislatively mandated caregiver screening & assessment tool in Washington State.
How can organizations adopt TCARE and what are the benefits for them?
We engineered the TCARE program to have limited barriers for adoption, while ensuring robust security. It does not require EMR or EHR integration and can be deployed as a stand-alone software package. It is compliant with HIPPA, GDPR and CCPA standards, takes only about two weeks to implement and is completely scalable. The training protocol consists of about 4-6 hours of web-based training, broken down into 20-minute modules, and is totally self-paced.Programs can have their staff trained and certified or may contract with TCARE to provide the service on their behalf.
For the provider who's delivering the caregiver assessment, TCARE significantly cuts down on their desk work and provides a true identifier of what's going on with their caregiver client or patient. The whole TCARE model is built on the premise of preventing family crisis situations, not just managing them after the fact.
They can find out more about TCARE on the Best Practice Caregiving site. The TCARE program profile includes detailed information about the program components as well as research findings and real-world experiences of delivery sites. For more information visit www.tcare.ai.