Q & A: REACH Community Dementia Caregiving Program
August 17, 2020
This article describes one of more than 40 dementia caregiving programs found in Best Practice Caregiving, a free online database that helps organizations identify, compare and adopt best-fit programs for their clientele and community.
REACH Community is a dementia caregiving program that empowers caregivers to problem-solve challenges they experience from caregiving. Evolving out of a successful program originally funded by the National Institutes of Health (NIH) and then further developed within the Veterans Affairs (VA) system, REACH Community has brought the REACH model into non-veteran communities, helping a broader population of caregivers in need of support.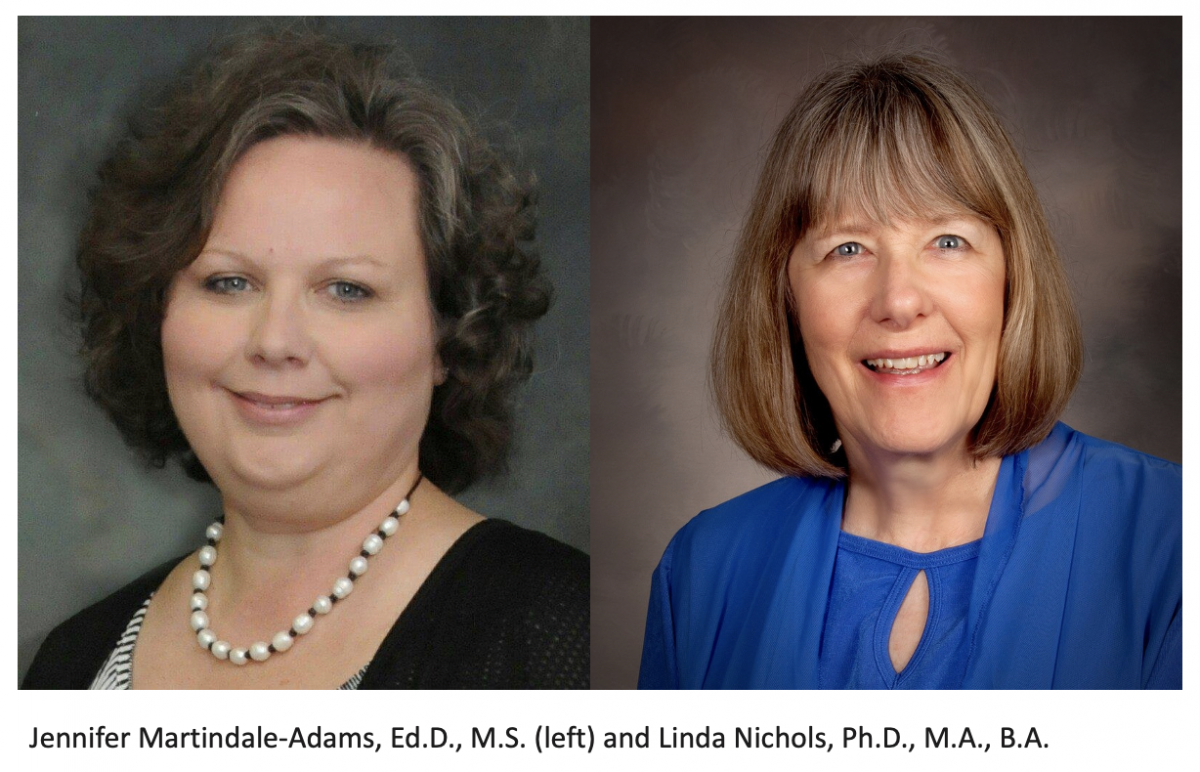 We talked with Jennifer Martindale-Adams, Ed.D., M.S., and Linda Nichols, Ph.D., M.A., B.A., developers of the REACH Community program, to learn more about how the program works, how it helps caregivers, and how other organizations can adopt it.
Dr. Martindale-Adams is professor in the Department of Preventive Medicine and co-director of the VA Caregiver Center. Dr. Nichols is professor in the Department of Preventive Medicine in the College of Medicine at the University of Tennessee Heath Science Center and co-director of the Caregiver Center at the Memphis VA Medical Center. Drs. Martindale-Adams and Nichols also co-direct the Caregiver Center at the University of Tennessee Health Science Center.
The following Q&A has been condensed for length and clarity, incorporating answers by both Dr. Martindale-Adams and Dr. Nichols.
What is the REACH Community dementia caregiving program?
REACH Community is short for Resources for Enhancing Alzheimer's Caregivers in the Community. It is a dementia caregiving program in which trained coaches provide caregivers with skills, tools and information specific to their caregiving needs and challenges. This can include care planning, understanding the injury or illness of their care recipient, targeted problem-solving and stress management. It's for caregivers of individuals living with any dementia condition, including Alzheimer's disease.
How was it developed?
The original REACH program was a multi-site national study funded by the NIH to identify and test a behavioral intervention for caregivers. We streamlined and implemented REACH in the VA, where it has been highly successful. We saw that this model could be useful in other communities, so in 2016 we secured funding to launch it outside the VA. We named this new iteration REACH Community (same program, different name) and have been supporting its spread to agencies and organizations across the country.
How does the program work?
We train staff members from agencies, social service organizations and others to become caregiver coaches. Those coaches then support caregivers directly in their communities. The coach provides the caregiver with four one-hour sessions (these days it's all by telephone) to identify their specific challenges and figure out solutions. The process is highly personalized in that it's tailored specifically to each caregiver's needs. Many times, caregivers' issues are resolved within those four initial hours, but coaches typically remain available to caregivers if and when they need additional support.
What's unique about the program?
Coaches work with caregivers to empower them to problem solve. It's really a problem-solving and empowerment model, rather than an interventionist model. The coach walks through an initial risk assessment with the caregiver, which usually surfaces their most pressing challenges. They then work with the caregiver on practical steps to solve that issue, empowering the caregiver to take charge of their situation.
Another thing is that we've manualized it. We've developed what we call the Caregiver Notebook, which gives caregivers a practical, easy-to-use tool for problem-solving. We've never had an instance where caregivers or coaches didn't absolutely love the Notebook.
Tell us more.
The Caregiver Notebook comprises 48 very short chapters, full of simple, practical, guidance on dementia caregiving. It's evolved a bit over the years but from the beginning it's been built from proven research and clinical practice. Most of the chapters focus on understanding and dealing with the behavioral aspects of dementia care, such as bathing, wandering and repeated questions. The rest are focused on the caregiver – providing simple, positive strategies to address stress and other challenges. The Caregiver Notebook is a handy guidebook full of tools and solutions that caregivers can reference anytime, and tailor to the situation at hand.
What are some other keys to the program's success?
REACH Community is extremely easy to implement and participate in – for the adopting organizations, the coaches and the caregivers. For the organization looking to implement it, the program can be up and running in about two weeks. Coaches receive between four and five hours of training via telephone, webinar or online. Once the coaches are trained, they're trained – there's no recurring or refresher training needed. We've found that this really helps the program spread in communities and deliver benefits to caregivers faster and with more impact. Additionally, almost anyone within the organization can be trained to deliver the program – prospective coaches do not have to be social workers, psychologists or social workers. We've seen all kinds of staff members successfully deliver it.
For caregivers receiving support, REACH Community is very easy to participate in. We designed the program to take only four hours, because caregivers are just as busy – if not more so – than everyone else. Those four hours are extremely efficient and focused, centering on their needs. Again, we built this program to identify and target each caregiver's specific challenges, and the needs of their particular caregiving dyad. It's not one-size-fits-all because we know that's not the case for caregivers.
Is the program evidence-based?
Yes, published study results show positive program impact and outcomes. Beneficial outcomes were found in the following areas: caregiver well-being, support for the caregiver, and well-being of the person with dementia. The program is particularly helpful in alleviating depression symptoms, care-related stress, and strain or burden as experienced by the caregiver, as well as safety risks and behavioral concerns for the care recipient. Readers can view research details, as well as the published studies, in the Research Evidence section of the REACH Community profile within Best Practice Caregiving.
Can it be delivered remotely?
Yes, everything can be done over the phone. Given the current situation with COVID-19, the remote-delivery aspect is especially important for keeping providers and community members safe and healthy while ensuring that support is accessible.
Where has it been implemented?
We have trained 246 coaches across the country in REACH Community. The program has been replicated by area agencies on aging, senior centers, day services and visiting nurse service organizations, behavioral health centers, centers on aging, and through the Alzheimer's Association.
What kind of organizations should adopt REACH Community?
Given the ease of adoption and demonstrated success of the program, really any organization that wants to deliver quality support to dementia caregivers in their community should consider it.
How can those organizations adopt it?
They can find out more about the program on the Best Practice Caregiving site. The REACH Community program profile includes detailed information about the program components as well as real-world experiences of delivery sites and research findings. Then they can contact us for training – our contact info is on the site.