11/17: FCA Family Consultant Christina Irving's Experience With Caregivers of Veterans in American Samoa
November 17, 2015
As a contractor with Easter Seals for the VA's National Veteran Caregiver Training Program, FCA staff has had the opportunity to meet caregivers from across the U.S. and its territories. In March of 2015, I traveled with FCA's Director of Operations Leah Eskenazi to American Samoa to lead six self-care courses for family caregivers of American Samoa's Veterans.
American Samoa consists of five islands in the South Pacific Ocean, halfway between Hawaii and New Zealand. It is 77 square miles, just slightly larger than Washington, D.C. The population is estimated at 54.343, and yet it has the highest rate of military enlistment of any U.S. state or territory.
This most recent training was the third one held in American Samoa, and several of the caregivers returned for the classes, which included Managing Stress, Problem Solving and Effective Communication, Taking Care of Yourself, and Utilizing Technology. Over the three days of trainings, we heard about the challenges these caregivers face and how they learn to cope with the ups and downs of caregivers.
Fa'a Samoa, or the Samoan way, places a strong value on the extended family. The majority of the caregivers we met were caring for a spouse but also helping with the care of a parent or in-law. Whether they lived in the same home or just the same village, they supported these parents who were dealing with various chronic conditions including dementia and diabetes. Juggling the care of parents, children, and their veteran spouses places a huge toll on these caregivers.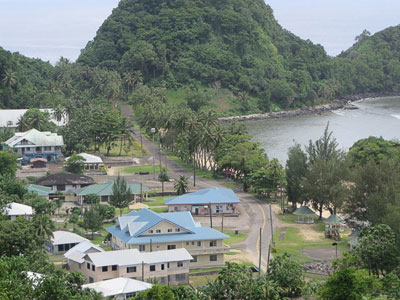 The close-knit villages and emphasis on respect of family meant that many caregivers did not feel comfortable sharing their struggles in public, even with other caregivers. These trainings being offered for multiple years and having the guideline that "what is said in the class stays in the class" helped these caregivers feel safe in sharing their experiences and both giving and getting support. Those that had attended in previous years were able to share how they had used skills they learned like "I Statements" to talk with their veterans about mental health treatment and to be more assertive about recognizing their own needs.
In any class or support group for family caregivers, it can both be humbling to see the strengths and struggles of the caregivers, and frustrating to know that the resources for them are limited. The lack of resources is especially true in rural or isolated communities, which American Samoa definitely is. The local vet center where we held these classes is extremely supportive and has tried to create more ongoing support groups for these caregivers. However, there is only one VA outpatient clinic and one community hospital. If inpatient psychiatric or intensive outpatient treatment is needed, veterans and their family caregivers have to take a five hour flight to Hawaii and family members may be separated from each other for a length of time.
Even more than the skills taught in the classes, we were able to help caregivers realize that they are not alone in the challenges they face, particularly around the struggles of supporting their veterans with Post-traumatic stress disorder (PTSD). Although they may continue not to openly acknowledge these commonalities when they run into each at the store or church, they shared that a smile or nod from another caregiver was extremely meaningful. They were able to recognize that their own well-being is important and does not take away from the value of caring for their family.
The caregivers we met (along with everyone else on American Samoa) were warm and welcoming. Like so many other caregivers, they often struggled to deal with the various mental and physical health conditions of their veterans. They found it difficult to prioritize their own health while caregiving for others, and they were challenged by limited resources. However, they were also open to new tools and appreciative of the support from us and from each other. It can be hard to leave the caregivers we meet, knowing that they still face a lot of hurdles, but it is a great honor to hear their stories and so rewarding to see the strength they show in coping with their "new normal" of caring for a veteran.
— Christina Irving, L.C.S.W., Family Consultant, FCA
View all 30 Days of Caregiving blogs (to date) at caregiver.org/blog.