11/7: FCA Caregiver College Video Series: Self-Care
November 7, 2015
As greater numbers of adult children become involved in care for their aging parents—as many as 80% of adults over the age of 50 have cared or are now caring for a parent, by some estimates—many of whom are still active in the workforce, learning about their new roles as caregivers amidst their other responsibilities can be a daunting task.
Family Caregiver Alliance (FCA) has created short, easy-to-follow video tutorials designed to teach caregivers some essential skills for taking care of their loved ones. The series, Caregiver College, includes topics such as transfer skills, nutrition, dental care, bathing and dressing, toileting, behavioral issues, and the ever important caregiver self-care. The videos are available on the FCA YouTube channel in English and Spanish.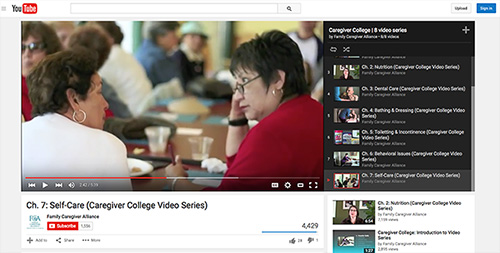 Featured today is Chapter 7 of the FCA Caregiver College Video Series: Self-Care. In this video, gerontologist Caitlin Morgan discusses how family caregivers can take care of themselves, and how self-care can help them continue successfully in their role as caregivers. She identifies the signs of caregiver burnout and offers self-care solutions such as maintaining social ties, exercising and eating healthy, attending caregiver support groups, and using respite care as a break from caregiving.
— Vellore Adithi, policy intern, Family Caregiver Alliance/National Center on Caregiving
View all 30 Days of Caregiving blogs (to date) at caregiver.org/blog.