11/9: Family Caregivers Treated to 3 Days and 2 Nights of Relaxation and Rejuvenation
November 9, 2015
This year marked the 13th year that Family Caregiver Alliance (FCA) coordinated a very special respite retreat for caregivers at the historic and luxurious Claremont Hotel Club and Spa in Berkeley, Calif. Each year this unique respite opportunity is generously sponsored by Richard Essey, a former caregiver, board member, philanthropist, and chairman of TemPositions.
The event includes a welcoming reception, therapeutic spa treatments, and gourmet meals. Caregivers are invited to share their retreat time with a guest, such as a good friend or a secondary caregiver. If caregivers don't have a trusted friend or family member who can care for their loved one while they participate in the retreat, FCA will arrange care and cover the cost with a reputable home care agency, adult day care or inpatient facility. This is one of our most popular respite retreats, and the waiting list is long. FCA offers a variety of other respite opportunities, including day-long retreats, and short-term grants. All are intended to give participants a well-deserved and much needed break from their caregiving responsibilities. We know family caregivers need regular breaks in providing care to remain resilient and to provide the best care possible for the length of their caregiving journey.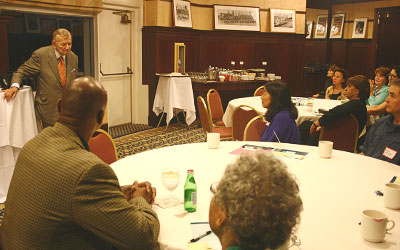 This year's retreat was held in mid-August, and like the previous years the welcoming reception began with Mr. Essey sharing his experience as a family caregiver, caring for his wife who battled Amyotrophic Lateral Sclerosis (ALS) courageously for years. He spoke openly about how difficult it was to watch his wife slowly decline and after 10 years succumb to the progressive neurodegenerative disease that affects the ability to control the muscles needed to move, speak, eat and breathe, and with no cure, eventually leads to death.
As he shared how his decision to support this retreat grew out of his personal understanding of the importance of respite or taking a break from caregiving, I looked around the room at the 12 caregivers in attendance. Many were listening intently and nodding their heads in agreement. Some had tears in their eyes and some had far-away looks, as if his words had transported them back to a specific, meaningful memory or time in their caregiving journey.
In the range of various ages, genders, ethnicities, circumstance, diagnoses among care receivers and time in their caregiving role, this small gathering of caregivers clearly represented the diversity of those who provide long-term care to loved ones with chronic disabling health conditions in the home. Some were spouses caring for spouses, others were adult children caring for parents, and some were caring for other family members (an uncle and a sister.) One commonality was that they ALL desperately needed a break and were thankful for being given the opportunity to take one. After Mr. Essey shared his personal experience he invited the caregivers to share theirs.
For the next 45 minutes or so I listened to their stories, their truths. Stories which were immensely compelling and steeped in so many raw emotions and feelings ranging from sadness to despair, resentment to anger, and relief to gratitude. One woman who was caring for her mom with late stage Alzheimer's disease was grateful because she felt closer to her mom than she had in years; she felt a lost connection had been reestablished. A couple who were caring for their adult son with ALS described how time consuming, emotionally crushing, and physically taxing it is to bathe, dress, and maintain his feeding tube. Another caregiver who seemed reserved and hesitant when it was his turn to share became animated and very willing to share as his story unfolded. He was caring for his wife who was diagnosed with dementia due to a stroke she survived five years prior. He was resentful that this happened to his wife, a giving and kind person who in no way deserved this reality. He was angry that other family members and friends didn't offer more support. As he continued to share his story, all those present willingly and knowingly listened with respect and compassion.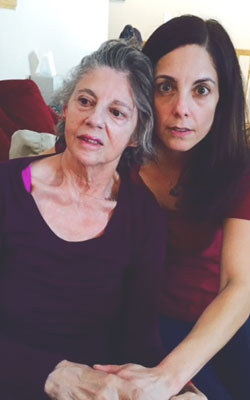 The caregivers were at various stages of understanding and acceptance about diagnoses, progression of illness and of what their respective futures would hold as care needs increased, challenging situations became more frequent, and difficult decisions approached. And now I was the one with tears in my eyes as I reflected upon my caregiving experiences as the wife of a husband who suffered a Traumatic Brain Injury (TBI) 11 years ago due to a horrific car accident, and as a daughter who cared for a loved one from a distance. My mom, living in a different state, died of Parkinson's disease (PD) and Parkinson's related dementia less than a year ago. As a provider and former caregiver, I understand both from a professional and from a deeply personal place that caregiving is one of the most difficult, meaningful and life changing experiences one can weather.
Once the stories were shared and the formalities of the reception came to a close, caregivers continued to connect in groups of two, three, or more. They offered each another emotional support, shared knowledge, tips, resources, and information. I'm certain this continued long after Mr. Essey and FCA staff members, including myself, left the reception, and over the next couple of days and perhaps beyond that if the caregivers exchanged contact information as they sometimes do after other retreats, classes, support groups, and presentations offered by FCA.
— Michelle Venegas, L.C.S.W., FCA director of programs and services
View all 30 Days of Caregiving blogs (to date) at caregiver.org/blog.