1977–2017: Caregiving Then and Now
January 3, 2018
"During the course of my husband's illness, I found that I needed an awful lot of help. It was all so sudden, the problems so devastating, the legal affairs so overwhelming, that I needed help from every direction."
—Suzanne Harris, FCA Co-Founder
---
When Sue Harris spoke those words more than four decades ago, she had been abruptly thrust into a caregiving role she never anticipated. And at that time, there was simply nowhere for her and her family to turn for help.
In 1977, when Family Caregiver Alliance formally began, family caregivers were an unseen, unheard, and unrecognized part of the healthcare team. Yet then, as now, their work was critical to the millions of individuals suffering from long-term, debilitating health conditions. These were families and friends caring at home for loved ones with cognitive disorders like Alzheimer's disease, stroke, and brain injury—conditions that left previously independent adults in need of extensive hands-on assistance, usually for years, sometimes for decades.
At the time, professionals—physicians, policy makers, reporters, even experts in aging—didn't always "get" the need for programs to support this population and ease some of their stress. Further, for caregiving families, exposing these personal, private issues to public scrutiny was new and uncomfortable. Because there was such reluctance to talk about the emotional, financial, and physical challenges of care—or because their concerns were dismissed by the very people they looked to for help—families and caregivers often lived in isolation and suffered in silence.
The Beginnings of Change
As our previous 40th Anniversary blogs pointed out, the creation of Family Caregiver Alliance was not a simple process. Although the needs were always there, a convergence of timing and luck propelled progress. The right people were in the right place at the right time. FCA's earliest successes were built upon the talents and passion of individuals with amazing determination, organizational skills, and the willingness to speak out.
The policy issues they grappled with were, and still are, extremely complicated. The depth of the need was enormous, yet not always visible. The funding goals seemed impossible. But the founding organizers, along with the first paid staff members, persisted. "And," says Executive Director Kathy Kelly, "we didn't know what we didn't know … and that was a good thing!"
As the group forged ahead, they gained support from the San Francisco Mental Health Association and then, most importantly, the California Department of Mental Health and the state legislature.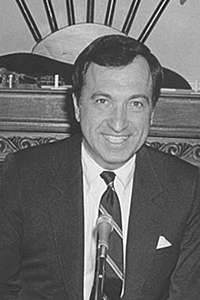 One of the first items of business was to complete a needs assessment of adults with brain impairments and their family caregivers, producing the first database of information about caregivers and caregiving. The founding group could then focus on developing services based on solid evidence of what families needed and wanted.
By 1979, thanks to legislation supported by Assemblyman Art Agnos, core services of the project were funded, including information, emotional support, respite care, education, and legal consultation. That same year, FCA helped launch the Alzheimer's Association, to further help families dealing with the devastating illness that was just gaining public recognition.
Progress continued as awareness of caregiving issues grew. In 1984, a first-in-the-nation statewide system of Caregiver Resource Centers was funded by state legislation, based on the FCA model. All Californians now had access to services. In 2000, FCA's programs served as a model for the National Caregiver Support Program under the Older Americans Act. And in 2001, Family Caregiver Alliance's National Center on Caregiving was established.
In the four decades since FCA went from a San Francisco committee to a nonprofit organization with national impact, we've seen monumental changes in programs and services for caregivers. Some of these remarkable innovations are listed below.
In Education, Support, and Awareness: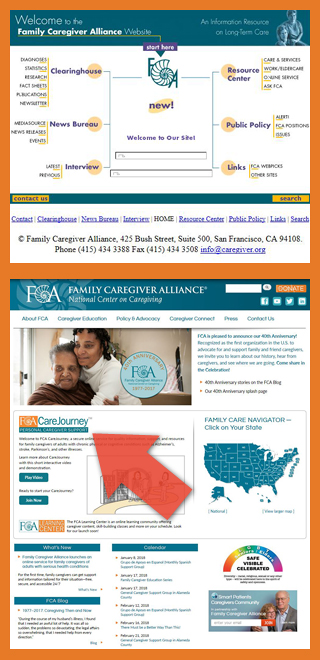 In Caregiving and Technology:
In Caregiving and Employment:
In Caregiving and Public Policy:
Perhaps no one could have predicted that the first public task force meeting in a San Francisco church 40 years ago would lead to a national movement to recognize the immense contribution of family caregivers to the long-term healthcare of the ill and elderly in our country. Family Caregiver Alliance's decades of service to caregivers are testament to the ability of a small group of determined people, defined by their passion and persistence, to effect significant and long-lasting change. We've made a difference in people's lives. We are proud and grateful for our history and for the words shared by a client: "You are my lifeline."
— Bonnie Lawrence, former FCA Manager of Communications and Media Relations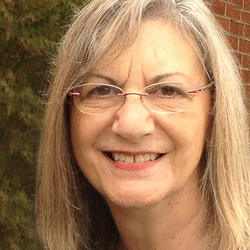 ---
*Art Agnos Photo: By Nancy Pelosi [CC BY 2.0 (https://creativecommons.org/licenses/by/2.0/)], via Wikimedia Commons